Judd Students face the Jury in Bar Mock Trials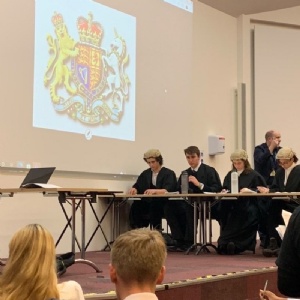 Congratulations to the school's Bar Mock Trial Team, who braved the challenges of presenting cases in front of judges and barristers. The combined team of 4 Year 13 students and 6 Year 12s performed admirably and achieved a well deserved second place of the 8 teams involved; being narrowly beaten by Chelmsford County High School for Girls in a hotly contested final.
Judd's teams successfully carried their juries in their respective heats, thanks to the strength and confidence with which the team presented their arguments, before reaching a deadlocked hung jury in the finals. A special thanks should be given to Mr Smith and Mrs Gale for organisation of the event, as well as those parents who stepped up on the day to bring students to the venue at the University of Kent in Canterbury.