Building Excellence
Building Excellence is the latest project in the long-term development of The Judd School. Launched in May 2015, it responds to a need to ensure the best facilities are available to allow Judd students to continue to thrive now and in the future.
Below you will find the contents of the original document. This shows the progress that has been made on these plans already! Some of these plans may change over the coming months, partly as a result of the advanced progess we have made and also due to shifting priorities and challenges. This year, we will be creating a new 'master plan' and project brochure showcasing our ideas.
Phase One 2015-2016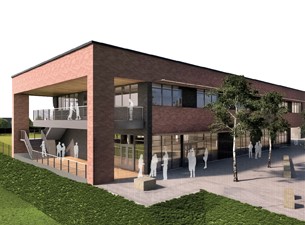 A much needed building for Dining and Biology has been completed, called The Ashton Building, together with brand new 3G Sports Playing Fields called Vizards.
The new dining room now enables students to eat their lunch in greater comfort.
It provides students with a proper break in the day; a pleasant spacious environment with time to linger.
Having the four biology labs together around one prep room means improved teaching facilities and a more cohesive departmental area.
The additional playing fields now provide:

Four new rugby pitches (two full size and two large junior size) in winter
Two new cricket pitches (one grass square and one artificial strip) in summer

The substantial investment in drainage and surface improvement has ensured a high quality facility.
Ashton Building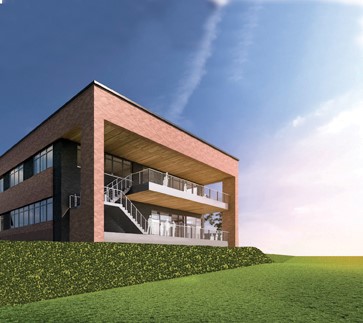 On the area to the west of the existing Library building between the all-weather pitch and two of the tennis courts, a new facility will be built to provide an extensive dining & kitchen area, together with an al fresco terrace. Above this a new suite of four state of the art labs, a prep room and an office space will be created for the Biology Department, together with an additional general teaching classroom.
Our architects (Bond Bryan) are dedicated to producing an inspiring space attuned to our needs. This will complement the surrounding buildings, yet make a confident statement of our future ambitions.
In addition to this, the existing kitchen and part of the dining room (which was an extension to the school in the 1960s) will be demolished to give a more open, free-moving space through the heart of the school site.
SITE PLAN below showing the location of the new building hatched in red. Areas marked in blue will be included in future phases.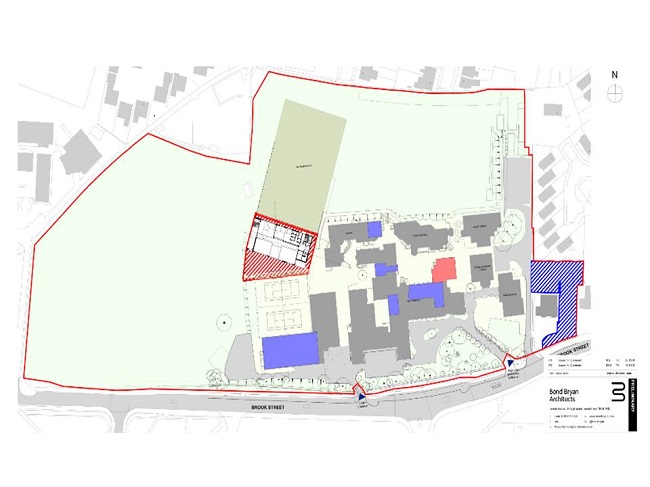 New Building Plans
New Sports Fields
Two new fields adjacent to Hayesden Country Park, to be known as Vizards, were bought by the school in December 2014. The first field (13 acres) will be developed over the next year and be ready for use in September 2016. This will double our playing facilities for cricket and rugby - a much needed response to growth of our student numbers and sporting activities over recent years. It will provide four new rugby pitches in the winter (two full size and two junior) and two cricket pitches in the summer (one grass square and one artificial strip). We are investing heavily in drainage and surface improvement to ensure the facility is of the highest quality.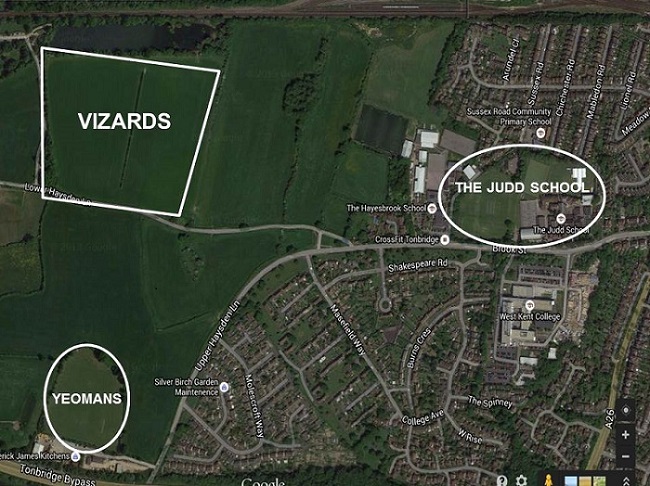 Future Phases
Phase Two (2016-2020)
The original Dining Room and Annex will become a multi-purpose space for drama, conference room and snack bar.
The removal of the old kitchen and part of the original dining area will mean a more open outdoor space. In total there will be an overall increase in teaching space:

Four new labs
Three additional classrooms (one in the new building and 2 converted labs)

The Chemistry and Physics departments will move into the space vacated by Biology to create four labs around one prep room for each department.
Two former science labs will become classrooms and an additional male toilet for staff and visitors will be built, allowing the School Room & Annex to be let as a self-contained facility, providing potential revenue for the school.
Phase Three (2021-2025)
The second Vizards field will be developed (13 acres), to further improve sporting facilities.
Phase Four
A multi-purpose hall/theatre large enough to fit the whole school for assemblies plus performing arts etc.
A purpose-built English Suite.