Joining Us
Year 7 Admissions for September 2018 - Update
Entry to The Judd School is through the Kent assessment procedure. Your son must have gained a "selective" assessment in the Kent PESE test to be considered for a place here at The Judd School.
Our Admission Criteria changed for September 2018 entry. Please look on our website for full details. In brief we have 135 places available for the Inner Area and 20 places available for the Outer Area. For the September 2017 intake we agreed with KCC to take an additional 25 students and so our PAN increased to 180. This is likely to happen again for 2018 but has not been confirmed.
Also for September 2018, we are offering up to 5 Inner area places to students registered in the current academic year for Free School Meals. Ranked according to aggregate score on the Kent PESE tests, the highest score being given the highest rank.
Applicants in this category will need to fill out a Supplementary Information Form and submit this directly to us by 31 October 2017. This SIF is the ONLY additional form that is required.
Once applications are received by Kent County Council via completed SCAFs (Secondary Common Application Forms), we are asked to rank the scores of those who have listed The Judd School in any preference position. Again for this year we will be ranking two lists (Inner/Outer Area) first by score and then distance, with the first 5 places for the Inner area for FSM students, ranked by score, as mentioned above.
Our ranked list is then returned to KCC who make offers on our behalf on National Offer Day, Thursday 1 March 2018.
When receiving queries from parents regarding the cut-off score for The Judd School this year, we can only refer to historic figures. For your information, therefore, but not as a guide, the lowest score offered on 1 March 2017 was 364 for the Inner Area and 400 for the Outer Area. Following re-allocation from the waiting list, the lowest score reduced to 361 for the Inner Area and remained at 400 for the Outer Area, as no withdrawals were received. There are usually around 20 places allocated from the waiting list(s), so it is well worth going on the list(s) if you are just below the initial cut-off score.
We do not yet know what score will be required for entry to our school; furthermore, we would suggest that no one is in a good position to declare authoritatively on the matter. What is clear is that the 'equal preference' scheme works well and so we encourage parents to order the schools on their SCAF in their general preference order.
Should you not be successful in securing a place at the school, you can find out more information about the appeals process here.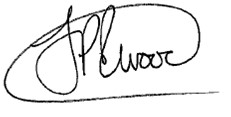 Jon Wood
Headteacher