At Year 12
Appeals
For Sixth Form (September 2020 Entry) appeals please use this link www.rebrand.ly/my6formappeal.
Please do NOT use ANY other appeal form or send your form to your local authority. It is suggested that you download the explanatory leaflet about appeals which you should read before you complete the appeal form www.rebrand.ly/myappealbook.
Timetable
Last day for Lodging appeals 4pm on Tuesday 25 August 2020 to guarantee that your appeal will be heard on the Friday 28 August 2020. You MUST state the reasons for your appeal and supply any documentary evidence at this stage.
Appeal forms and other information may be emailed to stephen@educationappeals.com (preferred method) or posted to Clerk to the Independent Appeal Panel, PO Box 367, Cuffley, Herts, EN6 4XZ.
Please note the timetable is very short to enable those successful appellants to start as early into the school year as possible. Appeal dates Thursday 27 & Friday 28 August 2020.
Sixth Form Open Evening for September 2021 entry
5-7pm -13th October 2020
A booking link will go live here nearer the time.
Admissions - 2020 Entry
CRITERIA FOR THE ADMISSION OF STUDENTS TO YEAR 12 IN SEPTEMBER 2020
Students must have achieved a minimum average performance points* score of 6.5 in their best 10
qualifications, or of all qualifications if fewer than 10 subjects completed. Students must additionally have completed a minimum of six GCSEs, including a 5 or better in each of Mathematics and English Language.
Students additionally need to satisfy the requirements of their chosen subjects, which can be found in the Sixth Form Prospectus.
Internal Applicants
Internal applicants transfer to Year 12 provided they have met the criteria above. There is no upper limit to the number of internal students transferring to Year 12.
External Applicants
The Published Admission Number for Year 12 is 75 (external students). In the event of over-subscription,
priority will be given to (in order):
1. Children in Local Authority Care or Previously in Local Authority Care
2. Academic Ability
This will be measured by ranked average performance points* score in their best 10 qualifications, or of all qualifications if fewer than 10 subjects completed, the highest score being given the highest rank.
3. Distance
Where average QCA scores are the same students will be further ranked by distance from home to
school (with the nearest given the highest ranking).
4. Random Selection
A random selection will be applied should two or more applicants have the same predicted grades and
the same distance from home to school.
* Performance points refer to the points as per the current year's 'School performance: point scores for KS4 qualifications'. Where qualifications outside the scope of performance tables have been undertaken, the closest match will be used as decided by the Governors' Admissions Panel.
| | |
| --- | --- |
| Subject | Entry Requirement |
| Art | 7 in GCSE Art. Some students who have not taken GCSE Art may be accepted on the basis of a strong portfolio of work. |
| Biology | Either 7 in GCSE Biology if taken or 7-7 in Combined Science. |
| Chemistry | Either 7 in GCSE Chemistry if taken or 7-7 in Combined Science. |
| Classics | 7 in English Literature or History |
| Design and Technology | 7 at GCSE in DT: Resistant Materials, Product Design, Graphics, Systems & Control or Electronics. Students who have studied a different DT discipline should contact Mr Reay (Head of DT) to discuss their suitability. |
| Economics | 7 in Mathematics and 7 in an English GCSE. |
| English Literature | 7 in both GCSE English Language and English Literature |
| French | 7 in GCSE French |
| Geography | 7 in GCSE Geography if taken. Students who have not taken GCSE Geography must speak to the Head of Department to discuss suitability. |
| German | 7 in GCSE German |
| History | The normal entry requirement is a Grade 7 at GCSE/IGCSE. Students who have not taken the subject at GCSE must speak to Ms Hoyer to discuss suitability. |
| Latin | 7 in GCSE Latin |
| Mathematics | 7 in GCSE Mathematics. |
| Mathematics (Further) | 9 in GCSE Mathematics. (Students who achieve a Grade 8 and wish to study Further Maths may be able to do so in discussion with the Head of Maths, on the basis of achievements in additional Maths qualifications or your overall GCSE profile.) |
| Music | 7 at GCSE Music or grade 4 on your chosen instrument/voice |
| Philosophy | 7 in a relevant GCSE subject (Maths, English Literature, RS) |
| Physics | Either 7 in GCSE Physics if taken or 7-7 in Combined Science. |
| Politics | 7 at GCSE in either History or English Literature |
| Religious Studies | The normal entry requirement is a Grade 7 at GCSE. Students who have not taken GCSE Religious Studies will need to have achieved a 7 in two other humanities, such as English Language, History or Geography. |
Please note:
For GCSE (or equivalent) qualifications which were awarded the old grades we consider a 7 equivalent to an A for the purpose of subject criteria.
Although we plan the timetable in response to students' subject choices, a small number of students each year find that their choice of subjects cannot be accommodated either because of timetable clashes or because subject sets are full. The school will let you know if this is the case as soon as it knows and will discuss your options at that time.
How to Apply
Deadline for all applications for September 2020 entry was 31st January 2020.
Applications from students new to the school
Applicants currently attending a Kent state school
If you are an external student currently studying at a Kent state school and wish to apply to The Judd School for September 2020 entry, you will need to apply online using the Kent Area Prospectus by visiting: www.kentprospectus.co.uk using the log in details provided by your current school.
Students attending Independent Schools will need to self-register on the site.
Applicants who currently attend a non-Kent school, Independent School or Overseas school
Any student who is currently attending a school outside of Kent, an independent school or a school which is not based in this country will need to self-register on the Kent Choices website before an application can be made.
The link for self-registration is https://www.kentprospectus.co.uk/ To register click on the Sign-In quick link. After registration, please select 'Out of Area or Not Listed' when prompted to select your current school.
If you have a query regarding applying to The Judd School Sixth Form, please contact our Office Manager Jodi Boreham jboreham@judd.kent.sch.uk at the School or telephone on 01732 770880.
Sixth Form Prospectus 2020 entry
Life in the Sixth Form

Life in the Sixth Form: A typical week
We aim to help you to develop the self-discipline and independence in your studies that will prepare
you for Higher Education and the working life which follows; though University and work are not the
only routes supported. The Sixth Form is a bridge between the highly structured timetable of year 11 and the need for self-discipline and good personal organisation in university life and the working world.
LESSONS AND STUDY PERIODS: Obviously the majority of your time at school will be devoted to the
learning and improving of the skills associated with your chosen subjects. However, you will not be in lessons all of the time. We operate a two-week timetable at the Judd with six fifty minute lessons each day, apart from Mondays when there are five lessons. So overall there are 29 lessons each week but 2 will be set aside for Games. You will be expected to study for 4 A-levels and given that each subject has 5 lessons per week you will be left with 7 lessons each week where you can direct your own learning (at least 1each day). The obvious thing to do with that time is to make sure you are up to date on your homework but as time goes on you will realise that reading ahead and around your subject is just as, if not more, important.
PRIVATE STUDY IN SCHOOL: Students can work individually in two supervised quiet study areas, one in the Sixth Form Study Centre and one in the Library. Working in groups is encouraged in the student study room where quiet discussion is permitted. There are computer facilities available for students to use during private study periods in the Sixth Form Centre, IT rooms and in the school library. After lunch students may sign out to pursue other activities if they have no lessons.
WORK OUTSIDE OF SCHOOL: Our experience is that our most successful students also undertake about four hours per subject each week of serious work at home. Much of this work will be self directed – but it cannot be overemphasised that undertaking wider reading and developing note making skills are essential if you are to do yourself justice at A level.
TAKING A BREAK: Students are not allowed to leave school before lunch time, however, students seeking a rest after a tough morning of three intense lessons can use the 90 seat Café reserved for the exclusive use of the sixth form. Food and Drinks are available and it is a good place to talk about things outside of your subjects.
GAMES: In addition to your academic subjects, Games activities are timetabled for you on Wednesday afternoons. The school offers a wide range of activities at all levels and is nationally competitive in many of them. Options include netball, hockey, swimming, gym, rugby, cross-country, athletics, tennis and basketball. Students can also pursue individual sports with permission e.g. golf.
ASSEMBLY AND PSHE: On alternate Friday's students either have a year group assembly or a PSHE
session (form period). Assemblies are a chance to reflect on wider issues and share relevant notices
while the majority of form periods involve external speakers talking about specialist issues and concerns.
FREE AFTERNOON: A standard timetable should have one completely free afternoon in the fortnight. This is an excellent opportunity to get involved in volunteering or work experience, arrange driving lessons or organise the acquisition of skills and experiences which will help you in the future.
In this way we believe that every student follows a curriculum that is varied and stimulating and which provides a sound basis from which to apply for university or work.
Life in the Sixth Form: Pastoral support
Every Sixth Former is a member of a tutor group and also a member of one of our six houses (Bryant, Evans, Morgan, Rendall, Starling and Taylor – named after our previous headmasters). The tutor plays a pivotal role in the development of their tutees and is responsible for monitoring their academic progress and providing pastoral support. If you have any problems, please talk to your tutor at an early stage. One of the most important parts of the relationship will be when the tutor writes the reference to support a university application and so it is vital that tutors know how a student is performing in school and that a student lets a tutor know about anything interesting that they are doing.
Students must register each morning and are expected to stay on site until lunch time. If they need
some time away from study, then the Sixth Form Café is available with food and hot drinks.
The Sixth Form Team (especially the Pastoral Head of Sixth Form Mrs Andrews) and Sixth Form Tutors are available to talk to students who are encountering difficulties during their Sixth Form, and can also direct students to outside agencies. We also have a Counsellor who visits the school on a weekly basis. Sixth Form student representatives are able to discuss aspects of school life and the running of the Sixth Form Common Room at the Sixth Form Council.
Life in the Sixth Form: Being part of our community
The Sixth Form have a special place in the school community being our senior students and students
always want to give something back to the lower school; which is great as they remember what is
needed to succeed at that age! This is something we absolutely encourage and student mentors both academic and pastoral ("student listeners") are a vital part of the school's success along with our Youth Health Champions. The Sixth Form are role models to the lower school and so their standards of behaviour and dress should be exemplary. Certain members of the sixth form are trusted with extra positions of responsibility and help contribute with organising daily and special events in the school. In year 13 they are called Prefects and there are Senior Prefects (Head Boy, Head Girl, Deputy Head Prefect and House Captains), House Prefects (including specialist roles for sport, charity, culture and pastoral issues), Subject Prefects and School Prefects. In year 12 students can also participate as "The Noble" (named after a beloved former teacher) and help with the day to day duties in the school.
Selection of University Destinations - 2019 Leavers
| | |
| --- | --- |
| Example Selection of University Destinations 2019 | No. of students |
| Birmingham | 12 |
| Bath | 11 |
| Manchester | 11 |
| Cambridge | 9 |
| Newcastle | 9 |
| Oxford | 9 |
| Bristol | 8 |
| Imperial | 8 |
| Warwick | 8 |
| Exeter | 7 |
| Nottingham | 6 |
| Southampton | 6 |
| UCL | 6 |
| York | 6 |
| Durham | 5 |
| Kings College London | 5 |
| Leeds | 5 |
| Queen Mary University London | 5 |
Gallery

Head Boy Dola & Head Girl Alex 2019/20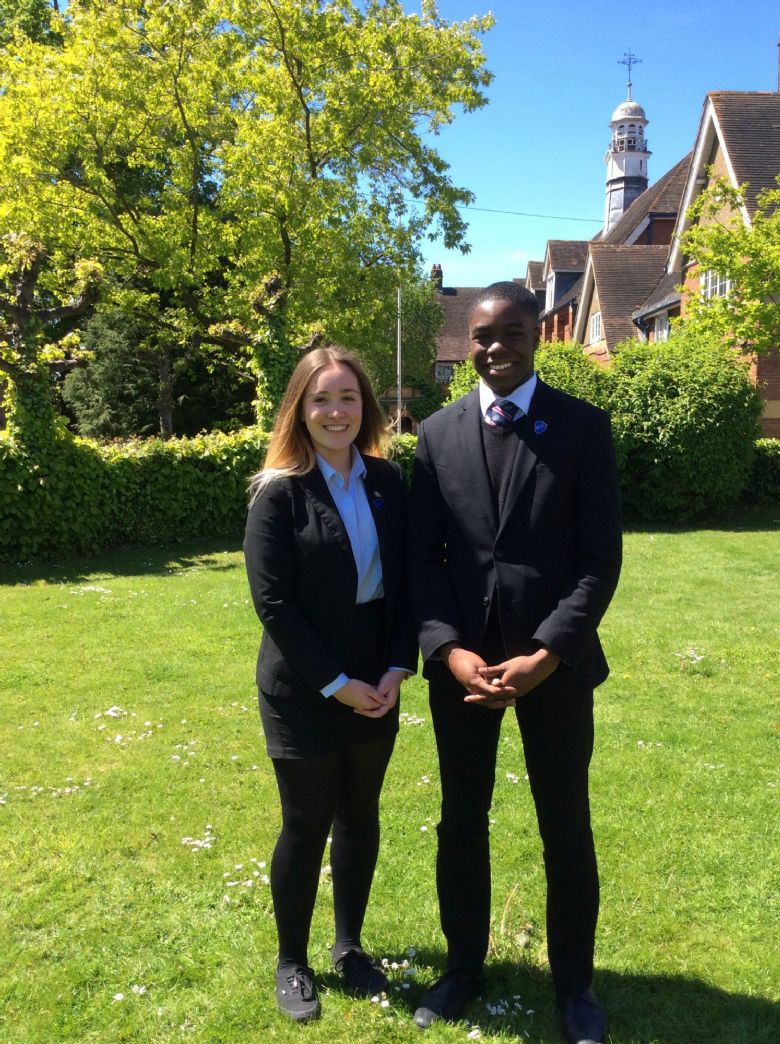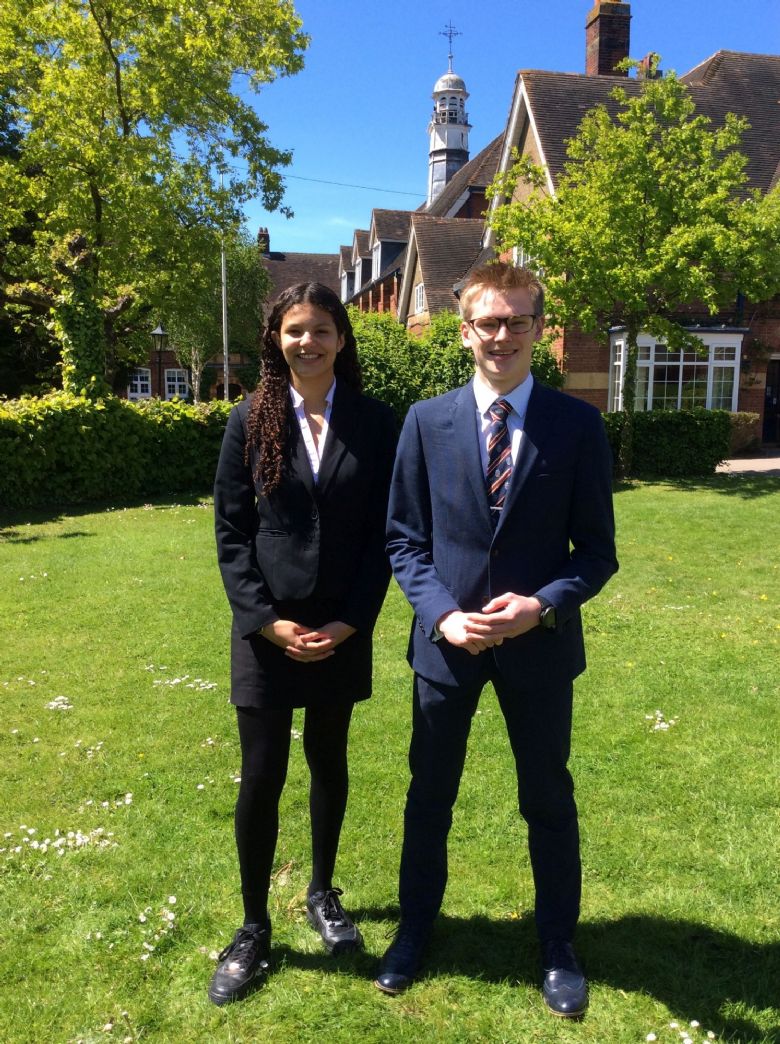 Deputy Head Boy Felix and Deputy Head Girl Kaya 19/20
Sixth Form Dress Code

The Judd School – Sixth Form Dress Code
All sixth form students at the Judd School are expected to follow this code throughout year. Students should dress in an appropriate, professional manner.
Item of Clothing

Can Wear

Cannot Wear

Suit Jackets

A suit jacket must be worn by all students, except during Summer Uniform.

Coat instead of suit jacket.

Outfit

(*tie for boys only)

1. Shirt & tie* with trousers/skirt.
2. Blouse & house pin with trousers/skirt.

3. Turtleneck & house pin with a skirt.

4. Tailored dress & house pin.

Skirts/dresses above mid-thigh level.

Jeans or legging style trousers.

Revealing/sheer clothing.

Visible underwear.

Suit/Skirt/Dress Colours

Black, navy blue, dark grey.

Subtle patterns are acceptable.

Shirts & Blouses

Smart, business style with a collar. Subtle patterns are acceptable.

Casual tops.

Lycra/T-shirt material.

Revealing/sheer material.

Bare shoulders.

Jumpers

Subtly coloured V-neck, crew neck or cardigan jumpers.

If a tie is worn, the tie knot must be visible.

Jumpers with large logos.

Sweaters or hoodies.

Heavily patterned jumpers.

Shoes

Any smart plain leather or suede school type shoes. Chelsea boots in an office appropriate colour.

Stilettoes, sling backs, open toes, UGG boots, trainers, non-chelsea boots, sandals or plimsolls.

Coats

Any subtly coloured coats when outside.

Coat instead of suit jacket.

Brightly coloured coats.

Hair

Any office appropriate hair style of any natural colour.

Jewellery/Accessories

One pair of gold/silver stud (no larger than 5mm in diameter) or sleeper earrings in ear lobes. Office appropriate, discreet jewellery.

Any facial piercings including tongue piercings.

Grooming/Makeup

Office appropriate and discreet. No facial hair, unless with written permission of the Headteacher.
*House coloured Sixth Form ties can be purchased from http://www.simmonds-ltd.com