Welcome
Charlie Costello - Head Boy
The Judd School is a wonderful community full of opportunity and possibility.
From academic olympiads and science conferences to school plays and cultural exchanges, students have continued to be supported in every aspect of school life to ensure that they can become the best versions of themselves.
Standing at the front gates in year 7, with a blazer to my knees, I was nervous about joining a new school. Fortunately the welcoming atmosphere set by my form tutor, head of house and older pupils meant I quickly settled in. As head prefects, we want to ensure that all of you, no matter what year you are joining, all enjoy Judd as much as we have.
The high academic standards of Judd are well balanced with a myriad of extra-curricular options. Students take pride in setting up their own clubs and societies, all of which are supported with the tireless help of staff. This has created such an environment where students are recognised and praised for their individual passions and interests as they are given the capability to explore these alongside their peers. Sport at Judd is also exceptional. The opportunity to join a multitude of national sides, including football this year, is very exciting and the encouragement to join in is shared throughout the school.
Judd continues to provide me with pride, fulfilment and happiness and I am in no doubt that it will for you also. It is a great honour to be welcoming you to our community and I hope this website inspires you to begin your journey as a Juddian.
Devangi Vyas - Head Girl
The Judd School is a magnificent universe of open doors, a world where students are welcomed to new opportunities and a place which every Juddian calls home.
After sending several nervous emails and a fury of intense instagram messages, I took my first steps into this unknown intellectual universe (otherwise known as the Judd School). In contrast to my initial thoughts, where my first day would include reciting the contents of my GCSE chemistry textbook while dissecting a sheep's heart, I was welcomed with open arms and many 'Don't worry, you will fit right in' phrases. Reassured yet still slightly jumpy, I anxiously ascended the stairs of Cohen and entered a new haven.
Our school is a prospering community which continues to maintain its strong morals, ethos and united atmosphere. From providing resources to prepare for your academic dreams to interacting with fascinating students and staff we cherish, Judd is a school that will support and push you to cultivate a mindset of growth.
'Learn, Grow, Belong'. The famous core mantra of our school is the best summary a Juddian can give of their time spent here. I have had the opportunity to expand my knowledge both academically and socially, to grow in maturity and have a school, house and form that has become my family. Along with the other head prefects, I welcome you to this beautiful community and wish you all the best with your Judd journey.
Senior Prefect Team 2021-2022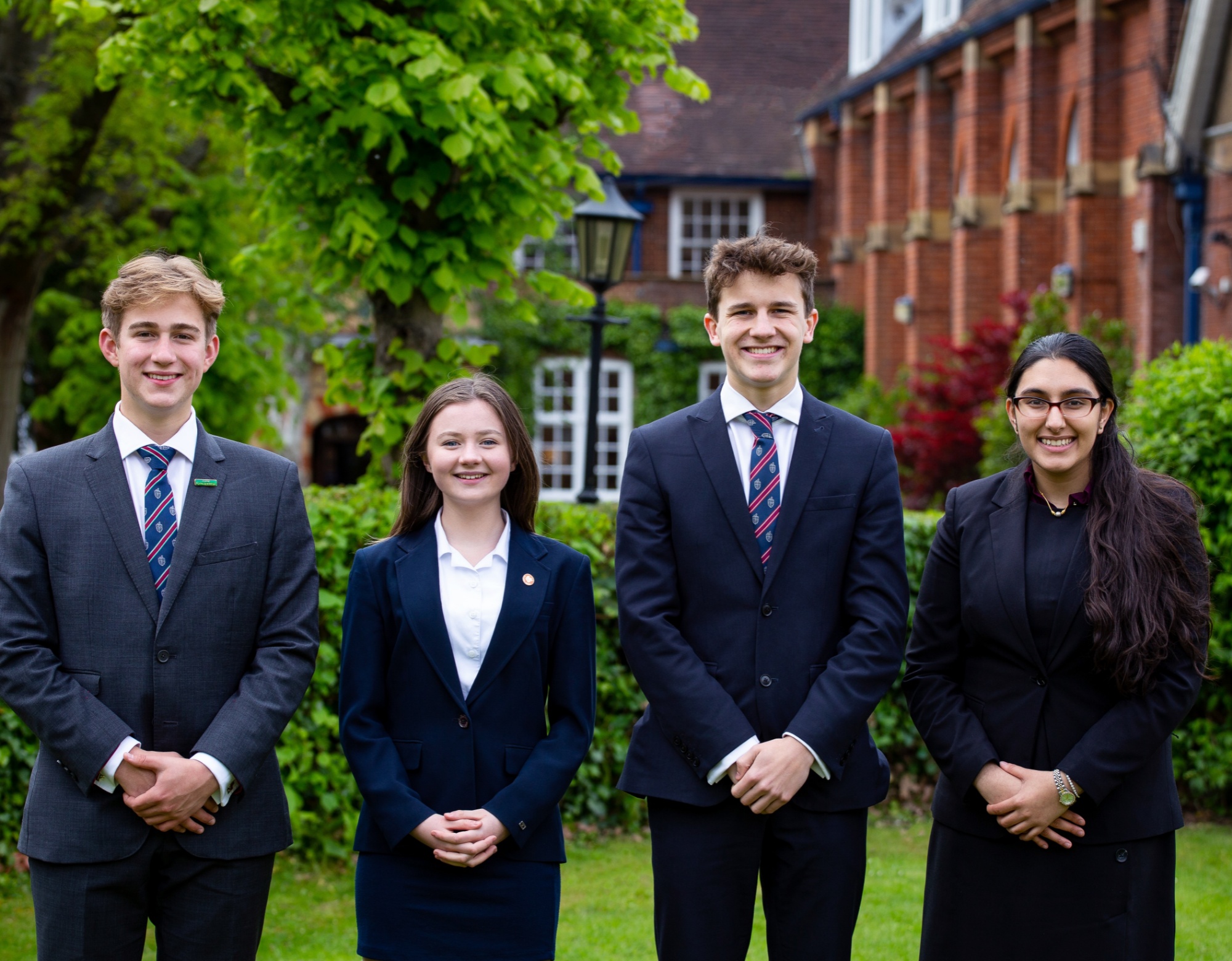 l-r: Nick (Deputy Head Boy), Lilly (Deputy Head Girl), Charlie (Head Boy), Devangi (Head Girl)