Overland Champions 2018!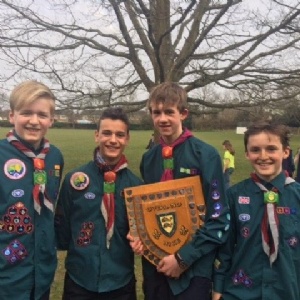 Teamwork, dedication and stamina pays off for Groombridge Scouts
Huge Congratulations to Sam and Toby (Y9) who have been in training with Groombridge Scout Group since January this year for a punishing competition organised by Sussex Scouts: 'Overland'. It involves teams of 4 Scouts walking 40km over 2 days on the South Downs, carrying 10kg of kit and camping in a field. They have to navigate using grid references, complete 'incidents' at check points, and walk to a minimum pace (whatever the terrain). At camp they are assessed on their camp skills including, preparing a 3-course hot meal. Since January this year they have completed training hikes totally around 160km, with ever increasing pack weights. Out of 42 Scout teams from the whole of Sussex, only 34 managed to complete the course.
Sam and Toby's team completed the competition the fastest of all Scout teams and won the competition overall! This is an amazing achievement both physically and mentally and shows great teamwork, dedication, and stamina.