A Level Results Success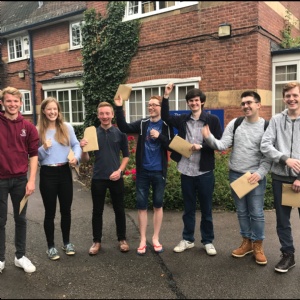 Students and staff at The Judd School are celebrating record results with 28% of all A level results graded A*, a 2% rise on the previous best and to date 32 students gained places at Oxford or Cambridge.
Other notable statistics:
87.7% of all A level entries were graded A*, A or B.
47.5% of students gained AAA (or equivalent) or better
12 students achieved 4 A*s (or equivalent):
Nicholas Bossons, Helen Eastmond, Lizzie Fox, Alice, Good, Luke Ibbotson, Nigel Ma, Jamie McLean, Josh Penollar, Hugh Selway, Thomas Sharp, Isabel Thompson and Rob Watts.
The top performing subjects, in which over 50% of entries were graded A*, were English Literature, Latin and Further Mathematics.
Outgoing Headmaster, Robert Masters, said:
"I am delighted for our students and staff, who have all worked so hard and with such enthusiasm to realise these exceptional results. It has been a great privilege to work alongside such aspirational students and see them grow in knowledge and character, developing their skills and abilities to both serve and lead. I feel sure that many will go on to make a significant difference, for good, in their chosen fields and to the people around them."
The Judd School continues to offer an inspiring Sixth Form with exceptional results, both in terms of traditional academic performance and a wide variety of opportunities in extracurricular provision.
The full table of results as they stand can be found here.