GCSE Results Success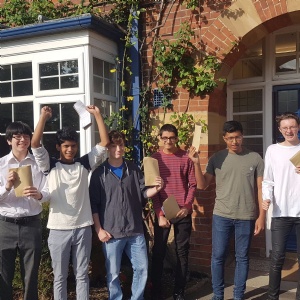 Students celebrating another amazing year of results.
Students at The Judd School are celebrating another excellent set of GCSE results with more than half of all entries being graded A*, 8 or 9 for the fourth successive year.
Over 90% of all students achieved the equivalent of 5 A grades or better.
In regard to the new GCSEs, Judd students faired brilliantly with 99% of all results in English and Maths a 'strong pass' (grade 5 or higher) and 56 students in Maths achieved a 9 with a further 41 a grade 8.
21 students achieved 10 or more A* grades or equivalent:
Hammad Ansari, Guy Ashcroft-Lury, Lachlan Bradley, Deepro Choudhury, George Coote, Luke Davies, Max De Bono, Ayush Gupta, Soni Kansal, Jason King, Dominic Major, Julius Moss, Oliver Muk, Nishi Ranasinghe, Philip Saunes, Patrick Stephens, Max Taylor, Kartik Velayudham, Jack Wadding, Adam Winnifrith and Max Wormsley