Latest sporting achievements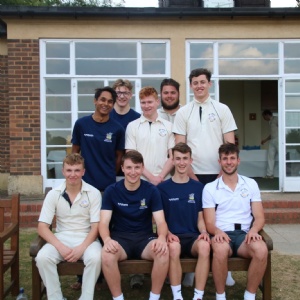 Congratulations to the Junior Squash team, Christian Thomas, Max Rhodes, Harrison Rhodes and Ryan Marshall for winning the Kent Schools Open tournament. Also, to the Senior team Dominic Major, Kurtas Joksas, Soni Kansal and Hammad Ansari for coming second in the Senior Kent Schools Open.
Well done to the 1XI Cricket team (pictured) for securing a draw against the MCC, played at Sevenoaks School. A strong bowling display restricted the MCC and they finally declared at 196-5, giving Judd 49 overs to chase the total. The reply started well, but a flurry of wickets reduced Judd to 49-5. There followed several partnerships involving captain Callum, but when he was out it was down to Henry and Harry to bat out the remaining overs for a draw.