U14 Kent Schools' Cup champions!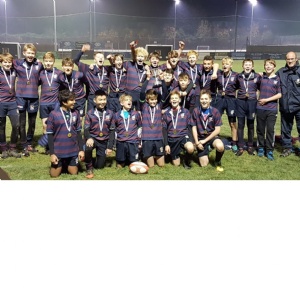 The Judd School U14 rugby team won the Kent Schools' Cup at Gravesend rugby club, under floodlights, in a great advertisement for school rugby. Having previously beaten St Lawrence Ramsgate, Dartford Grammar and Langley Park schools, all in very good quality, tough games Judd played Sir Joseph Williamsons Mathematical school in the final. Match report by Mr S Fraser.
An early try through captain Louis B converted by George H after excellent set up play by the forwards and Seb N at scrum half settled the nerves in the freezing conditions, which was followed by 2 more tries in the first half. The second try was an excellent set piece from a line out, with Henry T linking with Seb H for Henry P to score in the corner. The third try saw Dillan P score in the opposite corner, with great skill and agility, after superb set up play from Toby B and Angus H in the centre. The result was a 17 -0 at half time.
Throughout the game and in particular the start of the second half, saw excellent attacking play from the Rochester based school. Judd defended superbly, barely missing a tackle all day. The pack had to counter some excellent rucking, with Dante M, George T and Isaac W all prominent at different times in the match. Leading the tackle count were John D, Finn M, Dom S and Tom R who stood up to some very strong running. Against the run of play slightly Judd scored again thanks to Harry L with great skill bursting through a gap made by Rob T and previous excellent passing skills from Jonny F. Sir Joseph's then scored two fully deserved tries putting pressure back on Judd with the scoreline at 22-12. The best team try then followed - after winning a scrum against the head Judd then put together 6 or 7 phases of play seeing the ball moving left and right, George H controlling play, with forwards and backs combining superbly again. The whole team were involved and eventually Harry L scored again.
The final try of the game summed up the way Judd played, with another try, this time in the left hand corner with Dan G scoring after excellent passing from James T. The whole team were delighted with the 32-12 win after a very tough run to the final, with outstanding contributions as well from Ollie D, who was unfortunately injured for the final.