National Junior Boys Schools' Cup winners!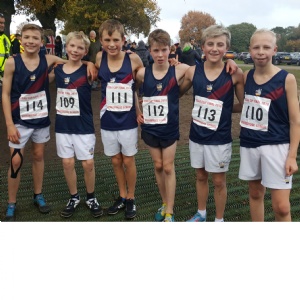 The Judd School junior cross country team were crowned National Junior Boys Schools' Cup winners on Saturday, after a thrilling race in Woodbridge School Suffolk. Following report by Mr S Fraser.
With 24 schools from the country all reaching the final after getting through area, then regional rounds, Judd scored 59 points and won the event by 12 points from Eastwood School, Essex. The true national representation was shown by schools from Devon, Cumbria, Warwickshire as well as Judd being the only junior boys team from Kent. The course was an undulating 3.4k 2 lap course in which the first boy from Judd home was Josh P in his best ever cross country race. He paced his run superbly and was catching the leader quickly at the end, only finishing 2 seconds behind the winner. George H finished 4th in a very high class field and with Albert K finishing a brilliant 10th with most of the field being a year older than him, Judd had 3 runners in the top 10, whilst no other school managed to get 2. Also running his best ever race was Ethan R, who had a storming last 1k to finish 43rd, in a field of 155 finishers (and a few non finishers!). Thomas C finished 67th which was the best 5th runner of any school and Thomas B finished 106th, a brilliant run from a year 7 in a year 7/8 race. This success follows on from the same boys winning the Junior Knole Run the week before, with Albert K winning, George H 2nd, Josh P 3rd and Ethan R 15th who continues the national successes with this title, the 3rd national junior boys title in 10 years.