Judd celebrate after retaining the prestigious Knole Run trophy!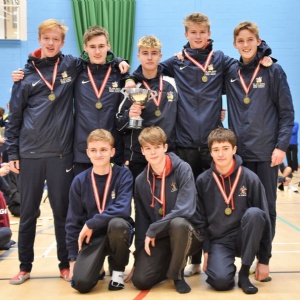 Judd celebrate after retaining the prestigious Knole run trophy at the weekend, the 8th time since 2009! Very well done to James 3rd, Dan Sc 5th, Adam 6th, Alex 21st, Matthew 27th, Alex T 36th and Dan Se 38th out of 240 finishers! Congratulations too to the B team on an excellent 10th place finish. Full race report and photos below:
The national quality and attendance of the race was shown by the top 5 schools, with Coopers Schools from Essex, finishing 2nd, Shrewsbury School finishing 3rd, Sedburgh 4th and Brighton, Hove and Sussex sixth form college finishing 5th. Judd scored 72 points, with 6 scoring runners from teams of 8, winning by 58 points. The front of the race saw exceptional runs from Tomer T (Sussex Champion the week before) and Eduard L (4th Middlesex U20 the week before) followed by James K from Judd.
Equalling his position of third from the year before but in a time that would have won most previous Knole run races, James ran the very tough 5.92mile course in 32m08s. Judd then packed the top 10, with Dan S finishing a superb 5th, Adam Plas 6th running his best ever race and Toby E finishing 10th with a gutsy run. Also running their best ever cross country races were Alex S in 21st and Matthew D in 27th, running in potentially his 1st of 4 Knole runs. Completing the top 8 runners from Judd were Alex T 36th and Dan S in 38th. The B team also had some outstanding runs, with the team beating schools including Abingdon, Westminster, Norwich and Manchester Grammar schools. Alex B raced superbly to finish 41st, Joe G worked very h
ard for a 53rd place, Adam S a fine 69th, Adam D 95th, Will K 101st, Jamie T 114th, Patrick S 116th and Adam W 117th from a field of 240 finishers (and many non-finishers! This keeps the teams unbeaten season going, following their invitation to represent England in the world schools cross country.