Impressive results at the Chemistry Olympiad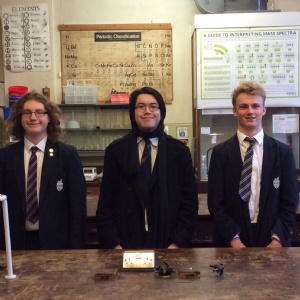 Congratulations to our Chemistry department who are very proud to announce the Royal Society of Chemistry Olympiad results which have been very impressive this year: 30 Bronze, 11 Silver and 2 Golds!
Special mention must go to our two year 11's Oli and Alexander who were entered alongside the Sixth Form students, they can be very proud of themselves for achieving Bronze and Silver awards respectively – Alexander was only 3 marks off a Gold award! This competition designed for year 13 chemists.
It is also the first time that one of our students has reached the second round, this honour belongs to Lachlan (Y13). He has been invited to a four-day Easter residential at the University of Cambridge (28th – 31st March). If he gets through the second round he will be in the international round, which will be held in Paris 21st -30th July.
Well done to all who took part!