Politics students witness Brexit negotiations first hand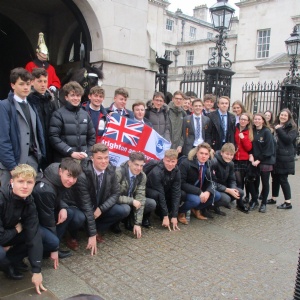 The Politics department secured tickets for thirty students to attend the House of Commons during the afternoon of 12th March.
This gave students the unrivalled opportunity to watch as the Prime Minister brought her Brexit withdrawal bill back to the House for a further vote. Returning from Strasbourg at 2am the night before, her voice was failing from last minute negotiations. 'You should hear Jean-Claude Junker's voice!', she quipped when MPs gasped at her once again husky tones. She lost the division at 7pm by 391 to 242 votes.
Students also attended a session at the Supreme Court and heard The Court's President, Baroness Hale, lead a panel of seven of the twelve Supreme Court Judges question council advocating a re-interpretation of the law with regard to pension entitlements. They also participated in an interactive discussion on the Supreme Court's major rulings.
Students also took part in a workshop on representation in the UK, at the Palace of Westminster's educational suit.
Finally, our Politics Students had a lively discussion with the protesters campaigning outside Parliament, including vocal supporters of 'Leave Means Leave' and 'The People Vote', campaigning for a referendum on the Brexit process.
This was a fantastic opportunity for our students to spend time at the heart of Westminster on a crucial day in our nation's constitutional history.