Great GCSE Glory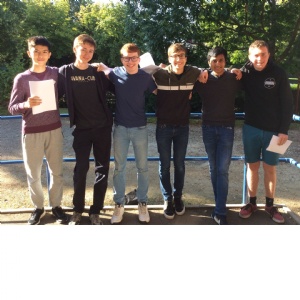 The Judd School are delighted to announce that students have achieved outstanding results once more, maintaining our record of more than half of all entries being graded A*, 8 or 9 for a sixth year in succession.
The new GCSEs, continue to pose their additional challenge but Judd students are meeting that challenge with aplomb!
Special mention must go to Joe Barney, Theo Briscoe, Robert Gregson, James Lester, Mungo Mangat and Alexander Robson who managed to achieve straight 9s in all their subjects. A further 7 students (Alex Campion, Alexander Colesmith, Tom Dixon, George Fitzgerald, Freddie Hand, Harrison Moore and John Mulford) achieved the equivalent of the old straight A*s with 8, 9 or A* in all their subjects. In addition to those names above, Laurie Auld and Harry Rasmussen will also achieve a coveted place on our honours board with 10 top grades in their exams. Doubtless, more names will follow when marking injustices are corrected.
The Headteacher, Jon Wood, said:
"We knew this year were a strong group, so it is wonderful to see their hard work pay off – together with support from teachers, support staff and parents alike – they have exceeded our expectations. To again achieve more than half our results at 8, 9 or A*, indeed an increase on last year's performance, is a great success; congratulations to Year 11, they have been justly rewarded for their endeavours. The staff and governors are extremely proud of our students' performance. We look forward to seeing how they develop through the Sixth Form and I am sure they will impress us further."