Linklaters Making Links Schools Finalist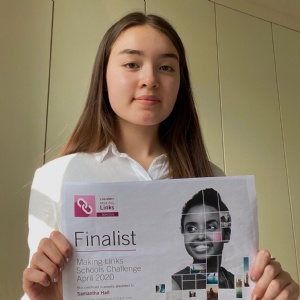 Please enter an introduction for your news story here.
Congratulations to Sam who was a finalist in the Linklaters Making Links Schools Challenge, held at the end of April. An excellent achievement as this was a national competition and we understand that the the quality of entries this year was particularly high.
In recognition of Samantha's achievement, the school will receive £1,000 to invest in school projects and activities. Samantha will be discussing her thoughts on how this money could be allocated with Mr Wood over the coming weeks.
Well done Samantha on this remarkable achievement!