Juddians offered prestigious university places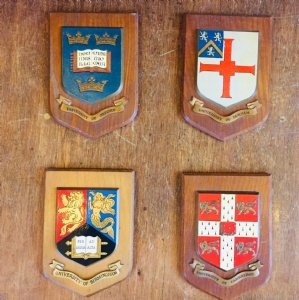 Our Schoolroom walls display the arms of some of the most prestigious universities in the world.
The painted shields remind every assembly that for over 130 years our students have left our classrooms, rehearsal rooms and playing fields to further their education at the distinguished institutions they represent. The likes of Bristol, Durham, Edinburgh, Leeds, Nottingham, Warwick and York feature regularly on our destination lists.
Every year our students enjoy considerable Oxbridge success. This year 23 students have received offers, 9 from The University of Oxford and 14 from The University of Cambridge, bringing our total Oxbridge offers over the last 5 years to 126, with a record high of 37 in 2017. This is a significant achievement for state school students, particularly in light of ever-increasing competition for places both nationally and internationally.
This year's places are evenly distributed between the Humanities (12) and the Sciences (11). Students intend reading Biochemistry, Biology, Chemistry, Economics, Engineering, Geography, History, Linguistics, Mathematics, Medicine, Music, Natural Science and Psychology. Many of our subject departments have therefore played an important role in this.
Our Head Prefects, Theo (History), John (Biology), Sophie (Geography) and Becky (Biology), have all been offered places at The University of Oxford.
One of our students intending to read Music has been awarded a deferred organ scholarship at St John's College, Cambridge, and another intending to read Mathematics has received an offer from Trinity College, Cambridge, where the course is world-renowned. We also have a student holding an offer from Brown University, an Ivy League university in the United States.
The vast majority of our students choose to apply to university. This year we supported over 250 UCAS applications, including current students and Old Juddians, which must be the most ever. We have experience in supporting every level of application, assisting students with personal statement reviews and suggestions, as well as interview preparation and practice interviews with specialists in the fields they are applying to. We look forward to the continued success of our students while the university offer process for the next academic year is ongoing.
During the weeks that remain until our students quit the banks of the River Medway for those of the Isis, the Cam, the Seekonk and waterways further afield, we will continue to provide them with quality remote education amidst the global health crisis. Whatever the final assessment method decided by the Government, we are confident that our students will rise to the occasion. Our academic track record speaks for itself; last year the Sunday Times featured us in their list of the top 20 best state secondary schools in the country.
To date we have received over 550 applications to our Sixth Form for the next academic year. We look forward to welcoming over 200 of those young people to our Sixth Form, and encouraging them in the pursuit of their future aspirations as they "Learn, Grow, Belong", our school's maxim, and the essence of what it means to be a student at The Judd School.
Mr Riaan Vorster
Head of Sixth Form
5th February 2021