WoW - what a week!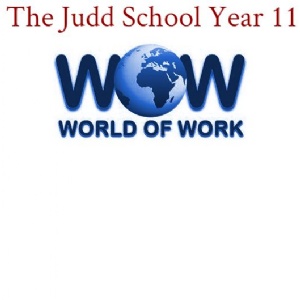 Wow! What a week we had last week with the Year 11 "World of Work Week" and the "Space Work Experience Week" hosted by volunteers from Serco and National Space Academy.
As part of the "World of Work Week" our year 11 students had the opportunity to learn about a variety of careers including business, law, policing, medicine, dentistry, financial services and entrepreneurship from some amazing speakers in person and virtually. There were also workshops to help build employability skills such as CV writing and interviewing. Developing an understanding of post school options was also on the agenda including apprenticeships, university and gap year ideas.
The "Space Week" was a fascinating combination of practical work and high profile speakers. Students from Judd (joined by students from Weald and Hillview) built cloud chambers, experimented with comet building and launched rockets, as well as preparing detailed and informed presentations. They were lucky enough to have talks from many well respected Space specialists including Colonel Tim Peake, Air Vice-Marshall Paul Godfrey and Rebecca Evernden.
What an amazing week and so many thanks yous - Chris Rocks MAPM, Anu Ojha, Sophie Allan, Katy Goldsmith, Amanda Price, Jo Wimble-Groves, Stuart Ilsley, Adam Law, Honey Zaidat Akinola, Leighton Bascom, Edward Irwin, Alex Nevill, Oliver Bates, Paul Adams, Sally Brady, John Costello, Simon Hodge, Daniel Neen, Ishani Rao, Dunja Rombouts.
Mrs S Seagar, Careers and Higher Education Officer
--------------------------------------
Rebecca Evernden has recently been appointed as the first Director for Space at the Department for Business, Energy and Industrial Strategy. Her responsibilities include developing the first National Space Strategy, establishing a new space policy and strategy hub in close partnership with the Ministry of Defence, sponsoring the work of the UK Space Agency and overseeing several of the Government's major space programmes. Rebecca had a previous role as Director for International in the UK Space Agency where she took the Space Industries Bill (now Act) through Parliament and led on the UK's participation in the EU Space Programmes and EU exit contingency planning. During her career in the Civil Service, Rebecca has worked in several government departments including roles as Director for Citizens Rights and Data in Department for Exiting the European Union, Senior Private Secretary to the Environment Secretary of State, a posting to Brussels and work at Defra and in the Cabinet Office on climate change policy.
Air Vice-Marshal Paul Godfrey OBE: Paul joined the Royal Air Force in 1991 and has been a fighter pilot for most of his career. A weapons instructor on the Harrier and one of the first operational pilots on the Eurofighter Typhoon, he has flown on numerous operations and exercises with the RAF and undertook an exchange tour on the F-16 Fighting Falcon with the United States Air Force. He was also privileged to be a Spitfire and Hurricane pilot on the Battle of Britain Memorial Flight. Other roles have included Typhoon requirements management at Defence Equipment and Support in Bristol, capability management at the Ministry of Defence and operational programme management within the F-35 Lightning programme. Between 2015 and 2017, Paul was Station Commander of RAF Lossiemouth in Scotland before moving to the Ministry of Defence as head of Carrier Enabled Power Projection, integrating F-35B fighters and Crowsnest helicopters with Queen Elizabeth class aircraft carriers. He recently returned from Al Udeid airbase in Qatar, where he was responsible for the planning and employment of coalition air and space power across the Middle East within the USAF Combined Air and Space Operations Centre. He was announced as the inaugural Commander of UK Space Command in Feb 2021. Paul has a Masters in Defence Studies from Kings College London and is married with two children.
Colonel Tim Peake CMG is a British Army Air Corps officer, current ESA astronaut and test pilot. After completing his A-levels he was commissioned as an Officer in the British Army in 1991 and trained as an infantry officer and then helicopter pilot. He undertook several operational tours in various parts of the world and was selected to work with the US Army on the Apache helicopter prior to its introduction to UK forces. He was then selected to train as a Test Pilot and completed a degree in Flight Dynamics as a mature student. In 2009 he was selected by ESA as the first British astronaut in Europe's astronaut corps and spent six months on the International Space Station in 2015-16.