Back to Back National Cross-Country Champions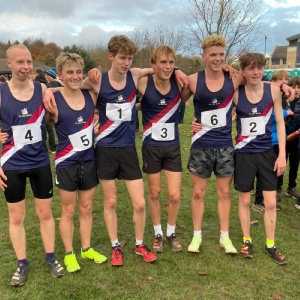 Our Intermediate Boys, Senior Girls and Senior Boys Cross-Country teams headed to The Grammar School in Leeds for the National Cross Country Final this past weekend. The Senior boys were defending their title of National Champions.
The Intermediate boys were the first of our teams to compete. The team made an excellent effort with Oliver finishing in 3rd, Peter 27th, Will 37th, Felipe 40th, James 94th and George in 110th. The race was run in good spirit, and they finished with silver, losing to local rivals Tunbridge Wells Grammar School for boys who took the Gold.
Our Senior girls team had their best performance ever at the National Final finishing in 17th and this was with one of our fantastic team running with a broken leg! Only confirmed after the race.
Finally, the Senior Boys, defending their title and facing the incredibly talented Abingdon team who have been formidable competitors over the years and with whom we have great respect and enjoy a friendly rivalry. Although Abingdon finished with three in the top ten, our seniors had a convincing win with all six of our runners finishing in the top 30, our top scorer was George in 6th followed by Ed 12th, Tom 13th, Jamie 16th, Josh 17th and Huxley 28th. National Cross Country Champions - Fantastic job boys!
Well done to all our runners, you have made the school proud!