Judd v Skinners 1st XV, Centenary Match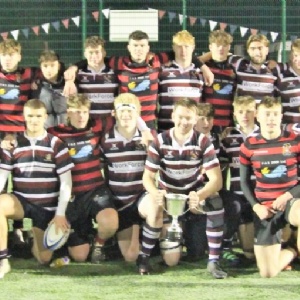 This weekend's Rugby summed up the very best of both school communities, not least each side's seasons. Showcasing the sport in the best possible way. The contests and rivalry were as fierce as ever, both on and off the pitch, but the Rugby was arguably stronger than ever seen before, in some of the most testing conditions that the fixtures have been played in. Credit to all for taking part in such a special occasion. The crowd's presence really made the whole occasion very special.
Form and Reputation are largely irrelevant in the 1st XV fixture and this proved to be the case again with Skinners starting strongly to take the lead through some strong lineout play and hard running in the backs. Judd's season has been largely unbeaten this year and this meant they retained their composure and confidence despite this onslaught, striking back through their talented young backs whenever they were allowed to be close to the opposition's line.
Judd's all County Front Row of John, Dom, and Seb helped their Captain Toby wrestle momentum and impetus away from Skinner's feisty pack. With this greater amount of possession Judd's centres, Fin and Eddie showed their class, each scoring to allow Judd to take a 10-5 lead. This was short lived however as a mixture of Judd's ill-discipline and Skinner's skill and ability to capitalise on easy territorial gain, meant the lead changed hands quickly once again. After some fantastic exchanges between the back three's, Skinner's spun the ball wide, showing they too were more than comfortable in phase play. Playing coast to coast until Judd's defence became disorganised. Compounding line breaks lead to a Skinner's score next to the posts. This was easily converted to make the score 10-12. Thankfully this was to be their last but not through lack of trying. Only stern defence and brilliant tactical stewardship from Judd's Fly Half Louis ensured this was the case.
This coupled with a generous yellow-card for a Skinner's winger tackle height error led to injury to Charlie, sanction and perhaps the games biggest flashpoint of note. Nothing really memorable about the incident other than it was a good opportunity for all of the players to get up close and warm, such was Mr Frost's icy grip on the night! It perhaps also changed the momentum of the game and gave our forwards, Harry L, Henry T, and Johnnie especially, even more energy!
A sign of a good side is how quickly they can score points, even when starved of possession and territory. This was seen in reverse, in this fixture last year, and it proved to be the case yet again. From the restart, Judd's first inroads into the opposition's 22m for what felt like an age, lead to more points. This time Angus proved successful from the tee to crucially put his team into the lead during the half time interval, 13-12.
After some wise words from Toby, Seb and Mr Packman changes were made and fresh impetus was brought to the second half. Judd now looked more like the team in control, playing in Mr Dawson's; Mr Richardson's; Mr Thompson and Mr Fraser's image, taking the game further up the pitch; moving the ball; contesting possession in all facets of the game and carrying well in both the tight and the wide channels.
Frank, Oli & Isaac continued to impress and those that came on namely Jack, Henry P & Henry H gave Judd even more relentless energy. Judd's best period of phase play led to their Captain Toby crashing over from close range. This was a killer blow because it took the score beyond the opposition. Then after an opportunity for both teams, came the icing on the cake. A chip through was caught on the bounce by Eddie Trebess who stepped and off-loaded to his outside backs, who in turn quickly fed our England Athlete waiting as the Wide Forward. Dante then proceeded to show his International Pedigree leaving all would-be tacklers in his wake, before crashing over the top of the fullback to score the try of the game. Judd threatened to extend this lead further but couldn't such was the strength of the opposition and the size of the occasion. 25-12 was reflective of the contest but was also probably a result neither side was unhappy with. Everyone played to the occasion and both schools should be rightly proud of their sides. Credit to all involved.
The 2nd XV enjoyed a similarly well supported and hotly contested encounter on Saturday. Albeit defences beat attacks as the score remained low despite many good passing moves from both sides. Judd were never behind until the end, losing out 6-10 to a mixture of ill-discipline and hard luck, as they conceded a late try from deep in opposition territory on transition. Skinner's talented outside centre scored the best solo effort of the weekend, punishing Judd's over exuberance near the try line. Neither side deserved to lose; it was just a question of whether one of them would do enough to win. Judd showed they could play short with their physical forwards led by David, George & Isaac or wider with Robert supplying his talented backs with plenty of opportunities to run the ball. Again there is so much young year 12 talent in this team but it is our departing Year 13s that Mr Richardson and I want to thank on behalf of Mr Fraser's whole PE Department.
Massive thanks to all these Year 13 pupils (& their parents/guardians) below:
John; Dominic; Seb; Johnnie; Toby; Henry T; Harry L; Seb; Louis; Henry P; Henry H; Isaac; Robert; Oliver; George; Tom; Miles; Max; Jacob; Niranj; David; Fergus; James; and Robin.
Judd will miss you! Thanks for everything, it has been our privilege to watch you play. Hopefully see you all during the Rugby VIIs season and at the Leavers XV game next year so you can make some more Judd Rugby memories! But most importantly keep playing Rugby because you're all fantastic at it.Well done.
Very best,
Damien Reilly - Head of Rugby