Congratulations to Y13 Angus on his remarkable international rugby achievements!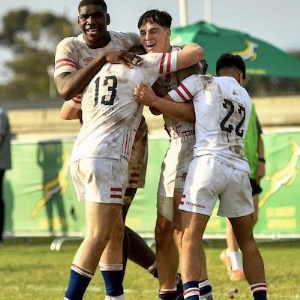 It is with immense pride and joy that we extend our heartfelt congratulations to Angus on his remarkable achievement of being recognised and selected to represent England U18 Men's Rugby in South Africa this past Summer.
We were all enthralled by the live action vs France, Western Province & South Africa respectively and enjoyed Angus' many tries and try scoring involvements (many of which were included on The Official England Rugby social media handles).
These were the viral moments that will live long in the memory and on England Rugby's social media platforms:
Angus' scoring his second try vs France, during the last minute in a 41-0 Win
Angus' scoring off the bench vs Western Province during their 72-14 Win
This is an outstanding accomplishment, to be our first England 18s cap since the switch to the RFU Academy Pathway and his dedication and hard work have truly paid off.
Angus' journey to this point has been one of discipline, perseverance, and unwavering commitment to your passion for rugby. His selection not only reflects his exceptional skills but also his leadership qualities and sportsmanship. Angus is a shining example of what can be achieved through determination and a strong work ethic and his achievements are a true testament to a really talented Senior Rugby Group that continues to impress after 2 years of being 18s Kent Champions already.
Representing his country at U18 level is a testament to his talent, and it is a momentous achievement that he should be incredibly proud of. We have no doubt that Angus will continue to excel and make us all proud as he continues to embark on this exciting journey.
We look forward to following his journey and celebrating many more successes with him. On and Off the field. Well done Angus.