U19 English National singles champion for 2018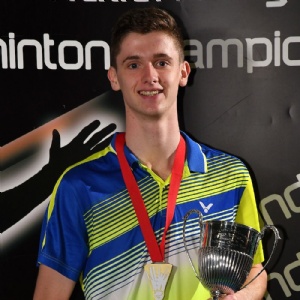 During half term Rory won his first English National Singles title at the 8th attempt grabbing the biggest singles trophy that that junior badminton players compete for in this country and becoming the U19 Champion for 2018. He has won many English National junior singles silver and bronze medals over the last 7 years but always failed to beat the other outstanding boy in his age group - Harry Haung from Buckinghamshire. Their fierce competition throughout the junior years has driven these two boys to rank in the top four in Europe for their age group but until this year Rory always came up short in English National singles championships with an overall head-to-head score of 15-0 to Harry!
The draw meant they met each other in the last four but both boys knew an easier final awaited whichever one of them got through the semi-final. The tight 3 set match lasting 57 minutes went Rory's way this time with Harry's devastating speed around the court reducing slightly in the third set due to the length and intensity of the match. The final as expected was a comfortable win in straight sets for Rory over Brandon Yap (Essex) to take the U19 Boys Singles title.
Rory also reached the final of the mixed competition but had to settle for silver with his partner Hope Warner. Quite possibly his exertions in the singles event affected the mixed result but he was very happy at the end of the weekend's competition and is looking forward to what the rest of 2018 will bring.
Pictures: Action Photography