Joshua celebrates after 12 podium finishes in Kent Swimming Champs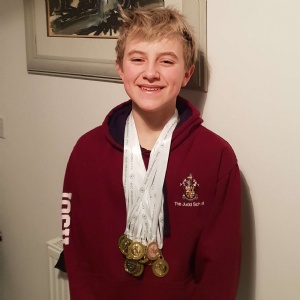 Joshua ( Yr8) competed in the recent Kent Swimming Championships which took place over 4 weekends in January and February.
He had a phenomenal competition and picked up 12 podium finishes, including the following medals:-
Based upon his current times he's now ranked in the top 10 in GB in 6 swimming events and most noticeably ranked #2 in GB and #1 in England in the 200m backstroke u13.
Well done Joshua!