Josh's busy summer of sport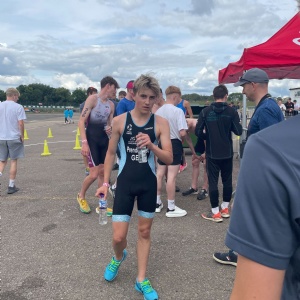 Josh in Y11 has had a busy summer on the sports front. He represented South East England in the British Triathlon Youth (under 17) Super Series. His notable achievements during the series were a win at the Bowood Aquathlon and a fourth in the British Triathlon Grand Final. He qualified to represent the South East Schools at the British School Games at Loughborough University where he and his team earned a silver in the Mixed Triathlon relay narrowly missing gold to a strong Scottish team.
On the athletics front Josh won gold in the 3000m intermediate boys at the Kent Schools Athletics Championships, his winning time qualified him to compete at the English Schools Athletics Championships for intermediate boys.
In the swimming pool he qualified in the 200m and 100m backstroke at the South East Summer Swimming Festival.
His next big event is an invitation to the London Mini marathon where he will be running for South East England.
Keep up the good work Josh!