Gold for Luke at Taekwondo World Cup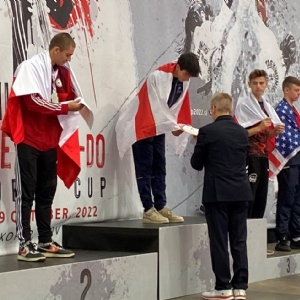 Luke competed in the Taekwondo World Cup in Slovenia last week (3rd - 6th October) with a small team
from the Tunbridge Wells Taekwondo Club, where he trains 2-3 times per week.
In what was his first major international competition, he gained a gold medal in special technique, which
involves both a flying side-kick over a bar and a vertical kick of a high pad. Luke achieved heights of
1.4m on the flying side-kick and 2.6m on the high kick, out-performing 21 other competitors from 12
different countries, to secure the gold and become World Cup Champion.
He also secured a bronze medal in sparring, narrowly losing to the eventual gold medal winner from
Poland.