Ollie's team win at Nationals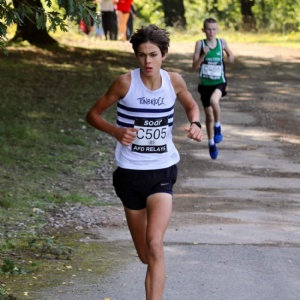 Tonbridge Athletic Club's under 15 boys' team won a dramatic National Cross Country Relay Championship, on Saturday, at Berry Hill Park, Mansfield. A total of 95 teams started the race, as teams of three runners competed over the two kilometres long course, which undulated over parkland and woodland.
Ollie (Judd student) ran the first leg for the team and was soon towards the front of the race, forcing the pace along. The England schools' international ran strongly, recording 6.26, on the slightly shorter first leg, to give Tonbridge the lead and handed over to Connor (TWGSB student) who maintained the Tonbridge advantage, as he ran 6.41, handing Toby (TWGSB student) the lead by a few metres from Bromsgrove and Redditch. Before the halfway mark Toby had lost the lead, whilst Salford were also closing the gap to the two teams ahead. However, Toby had judged his effort to perfection and with 800 metres to go was pushing on and building a lead. He ran strongly to the finish, timed at 6.40 to give the team a seven second victory, the club's first in this race for nine years.