Success for Zac at UK Regions Hockey Tournament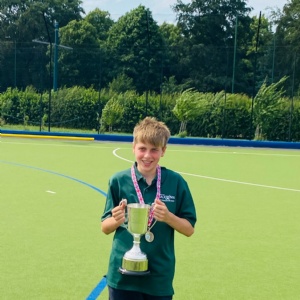 Following a successful county season, Zac Y8 was selected to represent Saxons, the South Region, at the UK Lions hockey tournament in Nottingham, from June 23 to 25th.
His Saxons team won every pool game comfortably, with zero goals let in and an incredible 16 goals scored.
On Sunday morning they played the semi-final against the Heart of England; a closely contested match, but with Saxons finishing 4-2 up.
An exciting final took place Sunday afternoon and the boys won 2-1, scoring a winner in the last minute of the match, enabling the boys to take home the Championship trophy and being named UK Lions Winners