Solomon's Success at Spurs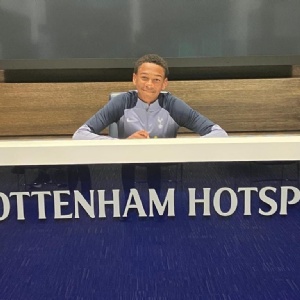 Congratulations to Solomon (Y9) who has successfully trialled at Tottenham Hotspurs and made the U14 team.
Reflecting on his experience, Solomon said, 'the first few days of the trial were daunting as I had to quickly learn the drills, playing style, names of my teammates and build relationships. After the first week of training, I was selected to play in my first match against Crystal Palace and did really well. This gave me the much-needed confidence to settle down and show my qualities during the subsequent training sessions and matches.
Whilst at the Spurs training ground, I was lucky to meet and take pictures with members of the England Men's team, including my favourite player Jude Bellingham. After 7 weeks of intense training sessions and matches, I was invited by the coaching staff and told the great news that they would like to offer me a place in the team. That was the happiest day of my life'.