Obituary of Mike Dobson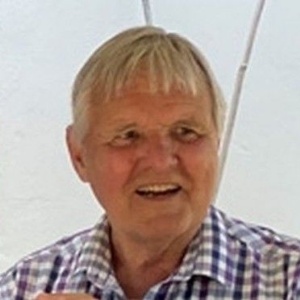 Obituary of Mike Dobson - 27th May 1939 - 15th February 2022
By Karen Dobson
Mike was born on 27th May 1939 to Bert and Jean Dobson. He attended Sussex Road Primary School and then The Judd School. Mike helped to establish the Boys Brigade at the United Reformed Church in Tonbridge High Street and became an enthusiastic member of Tonbridge Athletics Club, whilst also enjoying a wide range of sports. Of particular note, was the fact that Mike played rugby for The Old Juddian Rugby Football Club until the age of 60, and aspects of this period of his sporting life are covered the separate eulogy below. However, it should be noted that having hung up his boots 10 years earlier, he then reappeared to take part in a game against Maidstone RFC, alongside his son Lyndon, at the age of 70! Mike spent his two-year National Service period at RAF Northolt, doing Air Traffic Control. Mike married his long-term girlfriend and subsequent fiancee, Pat on June 8th, 1962. They had three children, Karen, Nicola and Lyndon. Always the family man, Mike was extremely proud of his three grandchildren, Oliver, Toby and Elliot. After starting work in an oil company, Mike spent many years as a draughtsman and ended his career as a Local Government Officer for NALGO, now UNISON. Whilst only in his 30s, he was elected as Local Councillor for Hildenborough, and during his 35 years as Local Councillor, he spent two years as Mayor of Tonbridge and Malling District Council in 1990 and 2000, and became the Hildenborough Parish Council Chairman for five years in 2011. Mike was instrumental in setting up twinning partnerships with the French town of Le Puy and the German Heusenstamm Friendship Circle. In March 2012, Mike was deservedly awarded Freedom of the Borough for his work in the community. Having been on various boards as a volunteer, he eventually retired from all commitments in 2017.
Outside of his wide and varied involvement in Council activities, Mike was also on the Governing Boards of The Judd School, Tonbridge Grammar School and Sackville School, over a period of many years. Mike's love of singing and performing led him to be involved over the years in many local acting groups including Stocks Green Primary School, The Oast Theatre, Spotlight at The Angel Centre and The Old Juddian Society Music Hall Group. He also appeared on TV's "Surprise Surprise" Show with Cilla Black,where he was selected to be an Old Tyme Music Hall host. This of course, was an extremely exciting event for the whole family.
Mike will always be remembered as someone who whistled sung, and played his way through life, and despite failing health over recent years, he never lost his sense of humour.
RUGBY & OTHER GAMES
By Eddie Prescott
A tribute to Mike Dobson given during the Service of Celebration of his life at St John's Church, Hildenborough, on Tuesday, March 8th, 2022
Since there was an age gap of three years between Mike and myself, unfortunately, I had no real contact with him during my time at Judd. However, I well remember the Annual Governors Day in 1955, when Mike stood at the corner of the stage in the School Room and faultlessly and with great confidence, recited a selected literary passage. He was an obvious choice for this task, since he had won Speech Prizes two years running. A review of The Juddian magazines of the 1950s also confirms his all-round sporting ability, covering a wide range of field and track events in athletics, as well as boxing, cross-country, swimming & diving and of course, rugby.
When I left Judd and joined the OJRFC, I soon got to know Mike really well and found him to be one of life's real extroverts - always cheerful, positive, considerate and helpful. On the rugby field, he showed himself to be quick off the mark and a graceful and balanced runner, who could execute an outrageous dummy which his own side often bought, as well as the opposition! His all-round ability was particularly prominent during the Canterbury Sevens Tournament, which the Club won in 1965. He could play anywhere in the backs and was a talented scrum half, and I enjoyed playing fly half outside him on several occasions. A particular memory is of an away game to Old Elthamians. As he put the ball into the scrum he gave me a discrete nod to the blindside which immediately set me on high alert. He then proceeded to throw me one of his classic reverse passes - a fly half's dream, the one that allows you to accelerate onto the ball. The opposition were completely wrong footed and the way was clear for the inevitable score, which to all intents and purposes was Mike's try.
A few words now on Mike's overall performance for the OJRFC. Tony Russell, who holds a meticulous record of the Club's overall performance, told me that in 432 games he scored 374 conversions, 213 penalties and 16 drop goals - a record that lasted right up to the formation of the Tonbridge Juddians RFC.
In one game during the season 1971/1972, he scored 10 conversions. Interestingly, Mike was a very early exponent of the round-the-corner style of place kicking compared to the toe punting style of that other renowned OJ kicker of the 1960s, Colin Whittle. Mike's approach to place kicking was very natural and relaxed, he just got on and did the job without any fuss or bother, far from the theatrics that many International players demonstrate these days as they get ready to kick the ball.
Mike's tries: During the season 1961/62 he scored 26 tries in 22 games, and in a game against Old Williamsonians, he scored 6 tries. Ten years later he scored 10 conversions in one game!
Moving on to the "apres rugby" - in the bar, when the tall enamel jugs and large plastic watering cans of beer started to circulate, the OJ choir, which was well known in Kent in the 1960s, started to clear their throats, before performing, without repetition or hymn sheets, for a good two hours. Mike was the choir master and John Richman, was his assistant.
The OJs went on many tours, including to Heusenstamn Rugby Club in Germany where their members were taught our rich heritage of rugby "folk songs". These they sung with considerable vigour, albeit in English, since we had had problems translating some of the more colloquial medical and anatomical terms into German. Mike helped to draft the tour rules and associated fines, and he shared the role of Tour Judge on many occasions when summary justice was administered to those who offended by breaking the rules. This applied after one very rowdy night's celebrations during a West Country tour, when the following morning a number of interesting odds and ends were found scattered around the hotel lobby. These included a rowing boat complete with oars, a coin-operated children's toy car machine from the nearby supermarket, and a small lighthouse from the local putting green. With feelings of great trepidation, Mike and Ken Gunn took full responsibility for returning these artefacts, but then surprisingly, found themselves being offered free rounds for the rest of the tour!
I earlier mentioned Mike's extroverted nature. This became very apparent off the field at Club Suppers and the like, when he would need nothing more than just a quiet suggestion to stand on a table and recite, word perfect and with all the appropriate inclinations, the 56 verses of that well known ditty, entitled Eskimo Nell.
On one occasion, very late in the evening in the Old Dining Room at The Judd School, and after a very alcoholic Club Supper and Prize Giving, true to form, there he was, very underdressed, up on the table in full flow, with the assembled company encouraging him to keep going. However, it soon became apparent that we were not alone, and that our wives and girlfriends had now dutifully arrived to collect and ferry us away in our inevitable inebriated state. They could all be seen at the end of the dining room with their faces pushed up against the windows pointing and giggling, and thoroughly enjoying the sight of Mike performing whilst looking as if he was dressed to go swimming.
There was a more famous occasion when Mike attempted another rendition of Eskimo Nell, again very late at night, but this time it was in the public bar of the Chequers Inn in Tonbridge High Street. It was Friday 8th June, 1962 and it was the occasion of Mike's Stag Party. On the surface, all very normal and reasonable and a perfect time to have it, with the weekend coming up. However, the timing would soon be seen as a serious error of judgement and an occasion that would be talked about many times over the following years. Why? because in just over 12 hours time after the evening ended, Mike was due to be in church waiting to get married to his fiancée, Pat.
To be fair, Mike had given the situation what he believed to be the appropriate degree of thought, consideration and planning, and had arrived at The Chequers armed with his minder and Best Man cousin Colin, with a determination that they would both end up completely bright eyed & bushy tailed and prepared for the wedding the following day. How? By drinking orange squash all evening. What they had not taken into account, was that they were surrounded by rugby players who had their own agenda. It was beer o'clock and they were there to have an exceedingly good time. They had absolutely no interest, or perhaps even knowledge, of the important proceedings taking place the following day.
Some latecomers were actually heard asking "whose 21st birthday is it anyway?". Everything started well, but very soon, someone had the idea of going round and collecting half a crown, or 12 1/2p in new money from everybody. The money was then quietly passed to the barman, who was told that as the pints of orange squash were prepared, they were to be livened up with a selection of spirits of his choice. He needed little persuasion to cooperate.
The inevitable climax of the evening involved Mike once again up on a table in the public bar with very little on, with none of the poise and balance that he demonstrated on the rugby pitch, attempting with some difficulty to navigate his way through verses of Eskimo Nell while the assembled company egged him on, by cheering and shouting and also throwing the dregs of their beer over him. What an evening that was, and I was so glad just to be an innocent bystander, albeit with an empty glass and with no particular responsibilities the following day!
I really don't know how and when Mike and Colin eventually got home, but Mike subsequently said to me , "When I woke up on Saturday morning, the only part of my body that I could move, were my eyelids - my whole body was stuck in suspended animation." I understand that he seemed to have been a little ill overnight and we later heard rumours of an early morning visit to the doctor and the subsequent use of a stomach pump to prepare Mike for the ceremony. However, this all turned out to be fake news!
As a final comment on this episode, if you look at Mike in the wedding photographs, you would have absolutely no conception of the desperate situation that had befallen him just a few hours earlier, and all because, well, boys will be boys!
Finally, I mentioned earlier, that Mike was always polite, kind and considerate but it would be remiss of me if I did not mention that he could sometimes be a cheeky, but always a lovable and innocent opportunist. As an example, if there was a queue to the bar and Mike saw you approaching, he might beckon you over and say "don't bother going to the back of the queue - come and stand in front of me."
Then, as you approached the bar and it became your turn, he would pre-empt your intentions by giving you a little tap on the shoulder followed by a whisper in the ear saying, "it occurs to me that as you're there and to speed things up, I wonder whether you could perhaps, get me a pint. I'll get you one later, of course".
There will be other tributes paid to Mike, but from whichever direction they come, the conclusion is inevitably the same. We have all lost a rounded and talented individual, a real character and a very dear friend, who has left behind a vacuum in all our lives. He will be particularly missed at meetings of the Old Juddian Dining Club.
God bless you, Mike
Some facts concerning Mike's time at Judd
He was in Gamma house
1953 Junior Cross Country - 8th
1953 Athletics

Intermediate Open Javelin - 4th
Intermediate Open Hurdles - 2nd

1954 Senior Cross Country - 15th
1954 Shill Art Prize
1954 Speech Prize
1954 Athletics

Intermediate Open Javelin - 4th
Intermediate 4th High Jump - 3rd
Intermediate 4th Long Jump - 3rd
Intermediate 4th 100yds - 3rd
Intermediate 4th 220yds - 2nd
Intermediate 4th 440yds - 2nd
Intermediate Open Hurdles - 2nd

1955 Boxing, Senior Light Level - Won
1955 Senior Cross-Country - 12th
1955 Speech Prize
1955 Form Prize (VA)
1955 Athletics - Under 16 High Jump -2nd

Under 16 Long Jump -2nd
Under 16 100 yds - 1st (11.4secs)
Under 16 220yds - 2nd

1955 Swimming, Open Surface Dive - 1st