Harry clinches National Decathon Title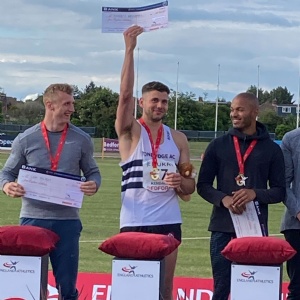 Congratulations to Harry Kendall (OJ, 2008-15) on clinching the National Decathlon title in fine style last weekend.
Reflecting on his breakthrough performance, which puts him atop the national rankings and a favourite for Commonwealth Games selection, Harry said: "I'm over the moon with my competition, 6 pbs and an overall decathlon pb (Championship record!) was pretty much the best thing that could have happened. The highlight for me was a huge 100m pb of 10.77s. Hoping for selection for the Commonwealth Games in August and if that's the case I'll be training and working towards that for the rest of the summer."
Harry was an exceptional athlete whilst at School, but had to overcome numerous injuries - indeed, he holds School high jump records for Y7 (1m63) and Y13 (1m95) but none of the years in between! This trend continued as he moved through the senior ranks, and only three years ago he suffered serious injury which put him out for almost an entire season - it is to his credit that he used the enforced lay-off to work on his weaknesses and come back stronger than ever. We always hope and intend that athletes continue to enjoy their sport after leaving Judd, and, amongst a few of his contemporaries, it has been a pleasure to see Harry's progress up to the national stage - now he has a nervous wait for the Commonwealth Games selectors who make their decision next Monday...