OJ Rugby News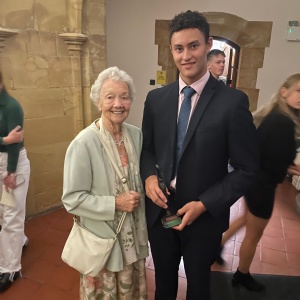 Dillon Claydon won the 1st XV Player of Year Prize the photograph shows Dillon with the late wife of ex-Head of Rugby Mr Knott who donated this trophy.

OJs Alfie Scopes & Jed Shaw played in a big BUCS game between Loughborough and Durham recently. Jed's Durham side narrowly won. Under lights!

Another recent OJ Alex Everett - is playing every week for Cornish Pirates in the back row. This is at Championship Level, which is the highest level of rugby an ex-Judd pupil has played since Luke Baldwin's Premiership Career! We are very Proud of him!