Mike Dobson's Memorial lunch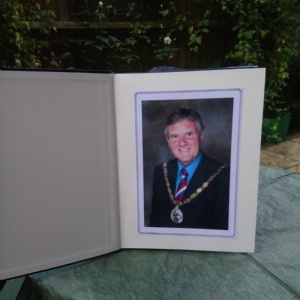 On a lovely sunny Saturday in mid-August, the Old Juddian Dining Club met in Hildenborough
for the second time to remember and celebrate the life of one of their own Mike Dobson.
On this special occasion they were joined by Den/Ben Gunn who was there to make a presentation to Pat Dobson of the documents that he prepared 10 years ago in 2013 nominating Mike for a UK Honour for a lifetime of Services to the Community, Sport, Leisure and Education in Tonbridge.

This nomination was supported by:
Sir John Stanley -MP for Tonbridge & Malling
Julie Bielby -Chief Executive -Tonbridge & Malling BC
Robert Masters -Headmaster -The Judd School Tonbridge
Pam Gow -Clerk,-Hildenborough Parish Council
The nomination documents detailed for example Mike's voluntary roles with Tonbridge & Malling BC from 1976-2011.
His voluntary roles on Sports, Leisure & Education from 1964- 2013.
His leadership as Chairman of the Twinning Committee which achieved the Twinning between Tonbridge and Heusenstamm- Germany and Le Puy-en-Velay- France.
This resulted in the award of Ehrenbrief by the Hessen Parliament, Germany cf MBE (UK).
His involvement in the merger between the OJRFC & TRFC.
Governor of the Judd School.
Elected Mayor of Tonbridge & Malling on two occasions and in recognition of his long and meritorious service to the Borough made an Honorary Freeman of the Borough in 2012.
For reasons unknown this nomination for a UK Honour for Mike was unsuccessful.
The documents were retrieved from The Honours and Appointment Secretariat in the Cabinet Office and collated into a presentation folder with the Judd School embossed crest and colours and were presented to Pat Dobson and the Dobson family at the Memorial Lunch on Saturday 19 August 2023.

Ken Gunn