OJ Bryan Winter (18th September 1929 – 22nd September 2023)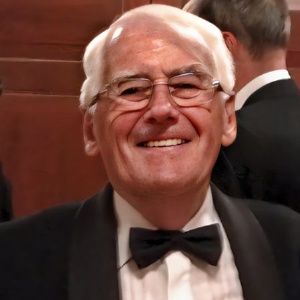 It is with sadness that we share the passing of Bryan Winter. Bryan was a a wonderful man – a loving, caring, family man; busy, community-spirited, organised, intelligent, gregarious, happy …the list could go on. Please see the full eulogy.
Our Daddy was a wonderful man – a loving, caring, family man; busy, community-spirited, organised,
intelligent, gregarious, happy …the list could go on.
And he had the most wonderful and long life – yes, a few tragically sad parts, but he enjoyed two
very happy and long marriages, brought us three daughters into the world, had nine grandchildren,
two step grandchildren, thus far 4 great grandchildren (another due in January), gaining two step
daughters on the way. He had a challenging and satisfying work-life, and a lovely long retirement
where he made the most of his leisure time - volunteering, enjoying travel and sport (both playing
and watching – he would have rued missing the rugby game on Saturday), whilst most importantly
maintaining his faculties and his health.
Daddy was born in Forest Hill, south-east London, to Bernard and Elsie. The youngest of three, with
two older sisters, Pat and Maureen, to keep him in order. Almost certainly the spoilt youngest! They
all married and settled down to raise families, remaining close all their lives.
The family moved to Tonbridge in 1939 to avoid wartime in London. So Daddy spent much of his
childhood in the countryside around here, scrambling over the fields, riding miles on his bike, falling
in water, watching the dogfights of the Battle of Britain overhead, collecting shrapnel that fell to the
ground, investigating the plane that came down in the Woodland Walk stream.
Daddy spent a year at Judd School before being sent to board at the Xaverian-Brothers run Mayfield
College. We remember him describing the nightmares that he used to have about being chased by
snakes, he thought linked to the fact that at one time he kept a grass snake in his desk. We have
found some letters that he wrote to his mum, obviously not long after arriving at the school. They
are largely focused on his dissatisfaction at the food being served up, and him pleading with her to
send him cake. You wouldn't be surprised to learn his nickname at school became 'food Winter'. The
war was going on all around for pupils at the college. In 1944 'doodlebugs' and planes flying
overhead were a regular sight and sound, with the distinctive Pugin building being used by pilots as a
visual landmark on their way to London. Just a couple of years ago, during a visit to the old school
site (now luxury flats), he showed us the window on the 4th floor that he climbed out of to retrieve a
tennis ball from the roof. Luckily for us this escapade ended well.
Daddy completed his two years of conscription with the Royal Artillery, spending much of his time in
Munsterlager, Germany. He was proud to wear his Royal Artillery tie and was delighted in the 1990s
to gain a medal for his service when at last it was recognised. Perhaps it was his lived experience of
wartime and post-war army days that led to his voracious reading and acquisition of books about 2nd
World War military history.
His first job on leaving school was with a company of estate agents in London, and he remained with
and progressed through buildings and the building trade throughout his working life, ending up as
the Sales Director of a ceilings manufacturing company. He drove all over the country liaising with
architects and builders of large stores for the suspended ceilings that went into their new buildings.
He oversaw the ceilings of several floors of the Canary Wharf building and often reminded any of the
family who were off on their travels to look up, as he had 'done' the ceilings at Stansted Airport.
Daddy met our darling mother Joan in the very early 1950s, sharing a close group of friends and a
love of musical theatre, performing together in several LAMPS productions. They were married in this church on July 2 nd 1955, and moved into their house at 8 Hill View Road. The place where daddy
died – not bad going, to live in the same home for 68 years.
I was born in 1958, a red-head, the joke being that our mum's bridesmaid Sheila lived just down the
road, shared the same milkman, and had had her own red-headed daughter less than three months
previously. I was 'Bimbo' to our dad. 'Punchy' (Vivi) was born a couple of years later, and Hilary Ann
Fernackerpan arrived another four years after that ('not another wedding to pay for' was Daddy's
reported remark at the time).
We have mentioned Dad's year at Judd School – very fortunate for him, as when our Uncle Cab,
Maureen's husband, was short of a rugby player, dad gladly stepped in. He played for the Old
Juddians for many years. I remember sometime in the mid 1960s, Viv and I being taken to watch the
Gravesend 7s rugby tournament, and shouting alongside him at the players from the side of a
muddy pitch. It was his idea of 'looking after the children'. His OJ friendships have endured, and he
was still dining out with the same group of friends only last month. When rugby became too much,
he took up the game of squash, playing at least once a week at Tonbridge School with David Davis
and Rodney Noble. After squash came golf, a bit less strenuous, which he enjoyed for many years,
becoming one of the Founder members of the new club at Nizels when it first opened. Even in his
last year, Dad enjoyed being taken by dear friends to the driving range and hitting off a bucket of
balls … or perhaps it was the cup of hot chocolate and the sausage butty afterwards that was the
attraction. Fly fishing also became a bit of a passion at one time, learned during our much-loved
family holidays in Moreton Hampstead on Dartmoor with the Davis's.
He was a very proud dad when he gave each of us away in marriage during the 1980s – we have
found tucked away the cards on which he wrote each of his 'father of the bride' speeches. Who'd
have thought that he'd be sentimental enough to keep them? His running joke through all of them
being the way that he would get our names muddled up, and the fervent hope that he was giving
away the right daughter to the correct new son-in-law.
Tragically our mum became ill, was diagnosed with cancer and died a few months later in 1990,
shocking us all. Daddy was bereft, lost without her. However, his friendship with Barbara, next door,
helped him through this difficult time. That friendship blossomed, and he and Barbara were married
a year or so later.
He introduced Barbara to air travel and far flung places. They went to the Everglades in Florida for
their honeymoon and didn't look back, taking in places like Yellowstone Park and Canada over the
years. They had many trips to France, and stayed in Paradors in Spain, but he also took Barbara to
Lanzarote, a place that he and our mum had very much enjoyed. Barbara loved Lanzarote, and their
twice-yearly holidays there were only stopped by covid.
Daddy joined Round Table back in the early 1960s, and many of our childhood memories revolve
around Round Table charity events. The dinner dances, fancy dress nights, regular socialising and the
occasional holiday together were relished and enjoyed, and the friendships built have lasted a
lifetime. He brought the house down one year when together with Mike Armstrong and Rodney
Noble, dressed as schoolgirls, they sang and performed 'Three Little Maids from School' from The
Mikado. In about 1968 Round Table put on a 'Half Term Hi-Day', a big, charity fund raising event that
daddy was at the heart of organising, held at the old Angel football ground. We can remember a trip
to somewhere in east Kent to book a huge fairground organ and carousel, and the thrill of him
arranging for Ed 'Stewpot' Stewart to bring his celebrity football team to play a match at the end of the day. Round Table stopped above the age of 40, but Daddy was still organising meals and dining
each month with his 41 Club pals, 50 years later.
Daddy didn't like sitting still. In the 50s he went to night school to learn to make some of the
furniture that is still going strong at 8 Hill View today, and he continued wood turning on his lathe
until pretty recently. He was a DIY man and he grew vegetables. We have probably forgotten some
of his voluntary work but here are just some of the things he did … He was a LAMPS patron and
supported many productions front-of-house over the years. He was on the Hildenborough Primary
School PTA and he helped fund-raise for the conversion of two classrooms into a swimming pool. .
He and our mum were the parent helpers on the school journey trip for the oldest children at the
school several times - much to my disgust when it was my turn to go! He organised the Grammar
School Swimming Club and volunteer lifeguards. He chaired Tonbridge Citizen's Advice Bureau
Management Committee. He sat on Hildenborough Parish Council. He chaired Hildenborough
Conservative Association. He was a Neighbourhood Watch Main Coordinator. He was on the church
Centenary celebrations Committee. And many of you will know that he and Barbara volunteered at
the Oast Theatre where Dad was Front of House Manager and also one of the Wednesday morning
maintenance team. Even in his final year, he enjoyed zipping down to the Oast on his mobility
scooter to join in with the chat and have a coffee.
He was a fun Dad; tobogganing in Knole Park as soon as it snowed, singing and dancing us around
the dining room table when the first record player was bought and whenever any of us went to a
jumble sale or auction he would ask us to buy him a trombone, if ever we saw one. We didn't.
During retirement he took very seriously the business of getting the Telegraph quick crossword done
each day, perhaps inspired by Barbara tackling the cryptic one. He never intended to wind her up
but his spelling did not always enable the next word to be easily fitted into the grid.
Daddy coped admirably during Barbara's short illness and her sad death last summer, but life must
have become pretty lonely. He was always grateful for every phone call, visit and trip out, and he
had many good friends who helped him during this time. Even in the few days before his death he
joined in a barbecue with Viv's family, went to Pizza Express with Hil's family, tucking into dough
balls for the first time, and enjoyed being taken out for coffee with the Brooks'.
Busy to the end.
A wonderful life.