Welcome from our Head Boy and Head Girl

Daniel Gregson - Head Boy
Judd is not only an outstanding school, with an exceptional track record of academic success, but it is also an environment that supports students to participate in every aspect of school life. Judd supports our endeavours inside and outside of school, allowing all students to thrive as well-rounded individuals.
Judd's academics mattered to me as a new year 7 student, but I was most excited about the great co- and extracurricular activities available. I have always loved how Judd makes school more than just "schoolwork". If you look through the "News & Events" sections of this website you will learn all about Judd's many successes in National Olympiads and subject competitions and our sporting excellence, which sees students competing nationally and internationally every year. There are amazing theatre productions, orchestras and numerous clubs and societies, as well as foreign exchange trips and World Challenge expeditions to places like Cambodia and Ecuador. All these opportunities make life at Judd refreshing, interesting and fun and there is something for everybody.
Our school motto is "Learn, Grow, Belong"; and for me, it is "Belong" that resonates the most. Judd is a community of dedicated and inspiring staff, fantastic students, and supportive parents who, together, have built a strong, considerate and empathetic school environment that fosters a real sense of belonging in new and existing students alike. I feel very fortunate and proud to be part of a school that provides such a wealth of opportunities and I hope you will be inspired to join us as part of the next generation of Juddians.

Annabelle Hales - Head Girl
The Judd School brings me huge amounts of pride and an unbelievable sense of community within its extraordinary and diverse experience. Regardless of who you are or what you are aspiring to do, The Judd School is there to meet your every need and push you to cultivate a mindset of growth. The opportunities provided are infinite, and the memories made throughout a Judd journey are invaluable. I remember every second of my first day at Judd, from the overwhelming emotions to the open doors of possibilities that I couldn't wait to explore. However, The Judd School provides a total sense of safety and reassurance from the second you enter the school gates, and I am sure every member of the Judd community can assure you, you are in safe hands.
Aside from top academic results, Judd never fails to succeed in every aspect of student life with fantastic mental health support, extracurricular subject help clubs and affable form tutors who are there to guide you when you're feeling lost. When I first joined in September, I must admit that I was most excited about the sporting side of Judd. The ambitious mindset that lives within the Juddians here is not only shown in the classroom, but is unveiled to its full strength on the playing fields. Being an athlete myself and enjoying a busy schedule, I plunged straight into every single opportunity thrown my way, from netball, to rugby and eventually supporting England with our championing cross-country team. Along with music, science olympiads and student-led societies, everybody is encouraged to explore their individual passions and interests with total support from the ever-tireless staff.
Judd is in no doubt a second home to me, filled with passionate individuals that I can proudly call family. It would be a great honour to welcome you to the Judd community, and I am sure your experience can be as positive and enjoyable as mine.
Senior Prefect Team 2022-2023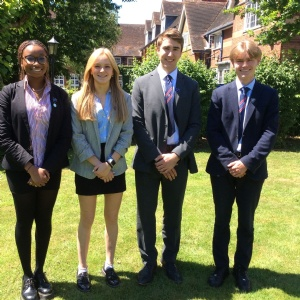 Gabriella, Annabelle, Daniel and Max (L -R)