Athletics
Judd has a great pedigree in Athletics. Throughout the summer term the School hosts weekly (Thursday) matches against local schools which gives all younger boys a chance to compete. A focus for the elite is the National Schools' Cup; consistently strong results at both Junior (Y7/8) and Intermediate (Y9/10) level over the last decade led to the School's selection to represent English Schools' at the 2017 ISF World Schools' Athletics Championships in Nancy, France. Uniquely, Judd teams compete against clubs in the Kent Young Athletes' League (KYAL) and offers plenty of opportunities for athletes to compete in the county championships. Every year many athletes go on to represent Kent and many place highly in the national rankings. Support is offered to all regardless of ability.
Every lunchtime and after School in the summer term there are jumping (high/long/triple), throwing (discus/shot/javelin) and running (sprints/middle distance) practices on offer for all ages delivered by specialist teachers. Hammer coaching is offered every Friday after School all year. Sportshall (Indoor Athletics) provides good training and competitive outings for keen athletes in the winter.
Parental help with officiating at matches (especially the KYAL) is much appreciated and several parents have kindly offered to become qualified. Students can become qualified too and the commitment might satisfy volunteering requirements for the D of E Award.
Contact: Mr S Fraser (i/c), Mr J Taylor (KYAL/Officials), Mr B Parkin (Juniors/Sportshall), Mr P Dawson (Throws)
Recent National & International Success
ISF U18 World Schools' Championships 7th 2017
National Schools' Cup Junior Winners 2013, 2008
National Schools' Cup Junior Runners up 2015, 2007
National Schools' Cup Intermediate Runners up 2017, 2009, 2008, 2004
National Schools' Cup Intermediate 3rd place 2010, 2007, 2005
Other Recent Success
Kent Young Athlete League Division 2 Champions 2017 (with Tonbridge AC)
Sportshall Kent Schools' Champions 2016/17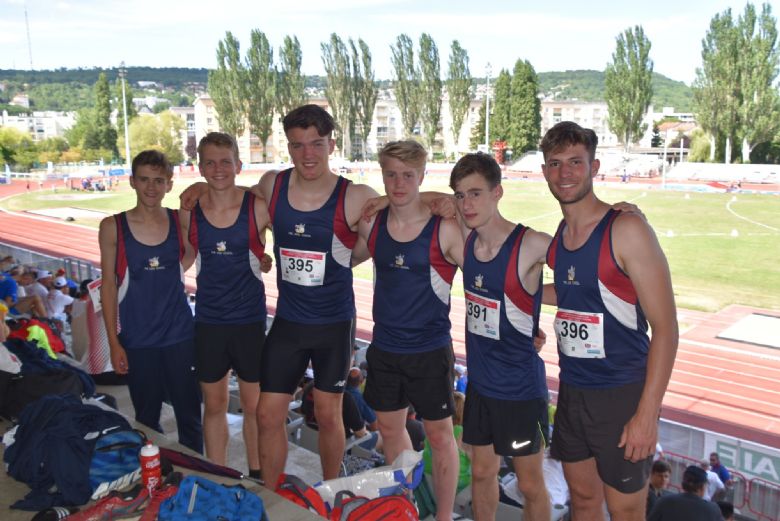 Senior squad - ISF World Schools' Championships 2017